5 Fun Outdoor Activities to Encourage your Child to Exercise (and leave the smartphone inside)
Smartphones and videogames are not bad, but its seem to be everything young kids enjoy these days - so how do we get them outside to exercise a little? Easy. All you have to ​do is to introduce them to fun outdoor games they'll want to play!
#1 ADVENTURE TIME! Adventure activities such as a trip to the park or a walk in the woods can be a chance for them to explore nature and learn about the world around them whilst also keeping active. Weekend adventures are also an enjoyable way to spend time together as a family!
TRY THIS: Add another twist to the adventure by getting your child to collect leaves, petals and other things around to make your a nature collage. Playgrounds are designed specifically for children. They often combine different types of activity: those that strengthen muscle and bone such as climbing, those that improve endurance such as playing tag, and other activities to develop flexibility such as hula hooping or skipping.
The added benefit is that you don't need to worry about your child's safety or about them playing near busy roads.
TRY THIS: Take photos and/or videos of your child while their having fun at the playground! You never know what great moments you capture, and it might even encourage them to be back on the monkey bars in no time! There are few things more exhilarating for kids than racing around on wheels. Scooters are very popular. An added bonus is that playing outdoors on scooters increases their exposure to sunlight. Our Y Fliker scooters are designed to combine exercise and fun tricks, making them ideal for getting more 'hidden' exercise into the day.
TRY THIS: Have fun with your child by creating a story around their scootering! Dress up with costumes and assign roles like superhero, villain, cop etc. Spark their creativity by letting them choose their own story.
#4 COMPETITIVE SPORTS As well as being excellent cardiovascular exercise for their physical health, there are many other benefits to introducing your child to sports. Team activities can help them to develop a healthy sense of competition, improve their confidence and even make new friends.
TRY THIS: Engage with the sport along with your child. This could be as simple as passing a ball around, and sometimes, even watching a game. This'll make them even more excited to play while improving their skills as a kid athlete!
#5 RUN BABY, RUN!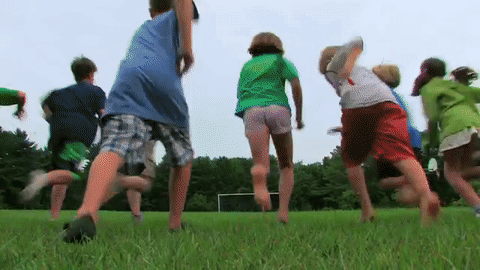 When kids have lots of excess energy to spare, nothing beats letting them tear around and wear themselves out (in a good way)! As well as providing bursts of excitement, it's also good for their cardiovascular health and overall physical development.
We hope these 5 ideas help to show how easy it is to keep your kids healthy and active outdoors. See you out there!